Welcome to the page, newlyweds! Or, you might soon-to-be husband and wife who are still having a hard time figuring out where to go or what to do on your most-awaited honeymoon? Hmmm.
Well, stop struggling because you just got the answers right on your hands. So, you better not turn the pages or you'll miss these amazingly hot tips which you can do in the land down under after you say "I do".
Why choose Australia over thousands or maybe millions of choices?
Australians don't have to shout out loud about the extraordinary beauty that their country has in store for everyone. The residents and the people who visit and/or take a tour in the big country show their unscripted and heart-warming reviews and love for the land down under. (www.cosmopolitanme.com)
If you would have the question in your mind regarding on choosing Australia to do your most-anticipated honeymoon, the answer is short and simple – Australia is an exceptional and well-preserved place to intensify your celebration as newlyweds. Not to mention, it's the 6th largest country in the world, so, just think of how it could surprise you a million times over and over.
     1) Step on the land of cheerfully hopping kangaroos
Of course, when you say Australia, one of the major things you'll have in mind is its massive population of cheerfully hopping kangaroos. So, as a newlywed, isn't it exciting to step on the land of kangaroos and see the extraordinary creatures?
You know, you really need time for adventures and new discoveries for some time – it's proven to tighten the bond between couples. Okay, if you're decided and excited to see the amazing and unique creatures, then here's the list of the top places to visit in Australia to see kangaroos.
Murramarang National Park

 

(NSW south coast of Australia)

Bonorong Wildlife Sanctuary

(outside of Hobart, Tasmania)

Currumbin Wildlife Sanctuary

(Queensland's Gold Coast)

Lucky Bay

(inside Cape Le Grand National Park near Esperance, Western Australia's south coast)

Kangaroo Island

(SW of Adelaide, South Australia)

Canberra

(capital city of Australia)

Narawntapu National Park

(Tasmania, Australia)

Great Ocean Road

(Victoria, Australia)

Grampians National Park

(Victoria, Australia)

Woodlands Historic Park

(Victoria, Australia)
     2) Swim and wander in the vast water of the Great Barrier Reef
This extraordinary destination in the off coast of the Queensland mainland, Australia is beyond ready to deliver you the honeymoon you wouldn't ever want to forget. This is only one of the uncountable natural wonders of the land down under – the Great Barrier.
Who wouldn't fall in love with the place with its awe-inspiring view? – Massive blue water, shimmering white sands, chirping birds roaming above the sky, tall trees, and the wonders residing down the deepest part of the ocean. The reef is one of the Seven Wonders of the World, and a World Heritage Site as well. 
So, in case you would take time to visit the amazing place, get your partner in life to be your adventure buddy in these fun and amazing activities listed below:
Swimming with dolphins

Whale watching

Cruise ship tours

Semi-submersible and educational trips

Glass-bottomed boat viewing

Bare boats (self-sail)

Aircraft or helicopter tours

Scuba diving

Snorkeling
     3) Witness the magnificent Sydney Opera House
You couldn't say you've been to Australia without visiting its ever famous Sydney Opera House.  Located at the Sydney Harbour in Sydney, New South Wales in Australia, this magnificent building stuns its visitors from all over the world.
So, bring love in Sydney and bond in one of the most well-known and most distinctive buildings of the 20th century. The most romantic thing you could do is to watch the beautiful and mesmerizing sunset over the opera house. This would be more romantic and ideal if you would hold each other's hands and take time to rekindle the love and romance.
     4) Have yourself a luxury escapes in NSW
One of the most sought-after types of honeymoon celebration is a couple's beach retreat.  Don't worry because Australia's still ready to amaze you you with its beachfront accommodation. If you want and definitely ready for a boosted romantic and intimate time, then go and choose the best luxury accommodation in NSW!
The most common mistake of honeymooners is that they keep on clipping their budget in their pocket when it's actually once in a lifetime moment to smother yourself with all the good things in life. So, as newlyweds, don't hesitate to pay for a luxury experience of a lifetime especially knowing that you're with the love of your life. 
     5) Experience a sleepover at Uluru-Kata Tjuta National Park
Next on the list is to visit and spend the night at Uluru-Kata Tjuta National Park (also known as Ayer's Rock).  It's another UNESCO World Heritage Site from the land down under and no wonder why.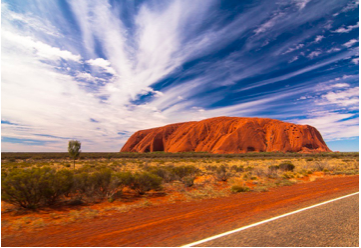 With its magical transformation of colors from the moment the glistening sun hits the resting huge rock is just beyond words. You can opt for bringing your tent or simply staying in your car overnight to witness a magical morning in the Northern Territory of Australia.
Now that you've read these tips for honeymooners like you, you better know that Australia has more in store for you. These are only a little slice of a cake to assume. You can pick a tip or two and make your honeymoon the most memorable part of your marriage life. So, bon voyage in the newest chapter of your lives and don't forget to spread and share your stories with us, love birds!
AUTHOR BIO:
Kath Ramirez is a journalism graduate who aims to turn her dreams into her passion. Her love for writing started when she was seven years old, reading illustrated books. Writing articles, reading books, and dancing is her passion and she breathes into life with these. Kath is also engaged in exploring different places to stay for vacation or Holidays and a food addict but health conscious. She now works as a writer for Kims an absolute beachfront tropical location in the north of Sydney.