The march down the aisle is one of the highlights of every wedding ceremony, and brides know it well. That's why many wedding organizers tend to dedicate an extra dose of attention to aisle decorations, whereas brides spend hours practicing the walk to the altar to make sure it goes perfectly on the big day. But how exactly can a first-time bride get her aisle act together and pull off the altar strut like a queen?
The Queen of the Wedding Day
It takes a confident bride to do a whistle-worthy aisle strut, and it takes a little bit of preparation to make the queen of the day look her finest. A beautiful wedding gown, hairdo, and a moderate dose of makeup which brings out the bride's finest features will help even the shyest of brides feel great in her skin, but if you want to take your self-confidence to the top, be sure to put your comfort before aesthetic value. This is especially true of footwear: high heels may look stunning, but if you don't wear them as confidently as though you were born in them, you'd better opt for flat foot shoes to prevent slips and trips that will shatter your proud aisle strut.
Practice Makes Perfect Aisle Pose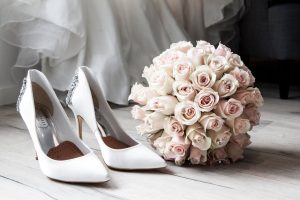 Even if you have nerves of steel and bulletproof confidence, a bit of pre-wedding practice won't go amiss. To make the confident strut on you, rehearse the aisle walk for a few weeks. When walking down the aisle, keep your back straight and your shoulders back, hold the bouquet a bit lower than you'd normally have it, and let the hem of your dress hit your ankles before you put your foot down. Still, try no to overdo the aisle pose: a bride at ease looks better than an uptight one, so don't feel bad if your posture loosens up a bit en route – and don't forget to smile!
Along the Lovely Aisle She Strolls
The wedding march can't look perfect without a stylish venue to go with a Wow-inspiring bride. For this reason, it'd be highly recommendable to consult professional wedding organizers about the choice of decorations to display along the aisle and at the altar. As a general rule, it's best to go with two-tone aisle décors centered on a pastel color such as beige, white or light blue, with a vibrant hue featured as accent to achieve a dose of visual contrast and dynamics. If you have a creative streak in your veins, you can make aisle decorations yourself with the help of cost-efficient stationery, fresh flowers, colorful ribbon, and craft supplies.
A Saunter across the Red Carpet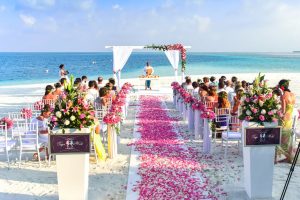 These days, more and more brides are opting for wedding ceremonies al fresco, which has given rise to the popularity of use of outdoor carpets as aisle rugs. If you're about to take a stroll into the arms of your future spouse and tie the knot outdoors, don't forget to deck the aisle with the right rugs. Aisle carpets are usually red, but they come in a range of materials, which means that you'll be able to pick the type of textile that provides the best visual bang for your buck.
Down the Aisle in Tune and Style
For a perfect finishing touch, make sure you've handpicked the tune that'll be played before you walk down the aisle like an average Venus. While Mendelssohn's Wedding March is the go-to for the aisle stroll, feel free to play around with pre-march playlist and include the tracks that build your self-confidence and positivity: you'll be needing lots of it while you prepare to step on the red rug and saunter into the arms of your spouse-to-be and set sail across marital waters.
The march to the altar is the crown of every wedding, so make sure you have your aisle game in place well ahead of the time. Ready, steady, go and make the crowd go Wow: after all, that's the whole point of the aisle show. Good luck, gorgeous!